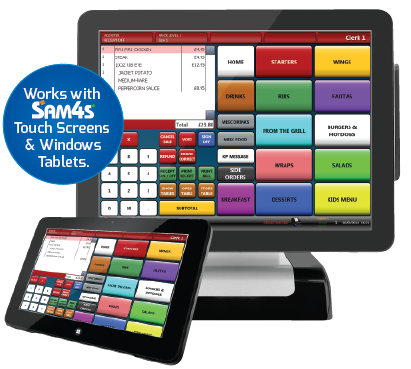 YCR Distribution is the UK's leading independent distributor of ePos solutions in the UK, with over 30 years experience in the industry.  In conjunction with its software developing arm Global System Solutions we have spent over 5 years developing Samtouch in the latest development technologies available.  By using the latest technologies this ensures that Samtouch is compatible with the most up to date Microsoft operating systems and it also allows for fast development into "add on solutions"
Because of our 30+ years experience we know that every business is different that's why Samtouch has been designed with a wealth of features that will meet the needs of every retail & hospitality environment.  We are confident that Samtouch is the right solution for all independent business owners looking for a solution that will grow as their business grows.
Samtouch is sold through our network of over 400 hand-picked system provider's nationwide, so there will be a system provider local to your business ensuring you receive the best service and support available.  Backed up by our own telephone support team and the system developer's all system provider's have support on hand if further assistance is required.
As major distributor's of ePos hardware & software we provide a "one stop shop" solution.  All hardware and software we distribute goes through rigorous testing in our technical department ensuring that each piece of the "jigsaw" works together in harmony.
For further details:-
YCR Distribution Limited.
Shaw Cross Business Park.
Shaw Cross Court.
Dewsbury. WF12 7RF.
Tel: 01924 438238
eMail: sales@ycr.co.uk
Web: www.ycr.co.uk