Transform the way orders are handled in the kitchen using the latest technology from Samtouch.
When orders are taken front of house, order tickets are transferred to a touch screen terminal located in each preparation area.
Each order is shown as an individual ticket with information such as Table#, Guests, Time Taken, Collection Time.
A summary of all the items that need to be prepared are consolidated on the screen so chef can see at a glance what needs to be prep'd.
For Example – If ten steaks need to be prepared across four orders, chef will see a summary of ten steaks which helps to minimise wrong orders and reduce stress in the kitchen.
No more lost tickets; digital tickets go a long way to reducing litter in the kitchen as well as helping the hospitality environment and cutting costs in paper rolls too.
Just in case an order has been missed alert times can be pre-set in the system to advise chef that an order has not gone. All in all, Samtouch Kitchen offers a range of features to speed up operation, minimise wastage and reduce stress levels in the kitchen.
Samtouch Kitchen comes with dual Windows & Android operating systems and will work on any Sam4s POS touch screen.
Samtouch Kitchen – Key Features In Brief
Digital Tickets – Less Waste
See All Orders & Statuses
Before buying online why not give us a call to arrange a no obligation demo on 01924 438238 or contact sales@samtouch.co.uk
Samtouch Kitchen – Minimise Paper Wastage and Reduce Stress Levels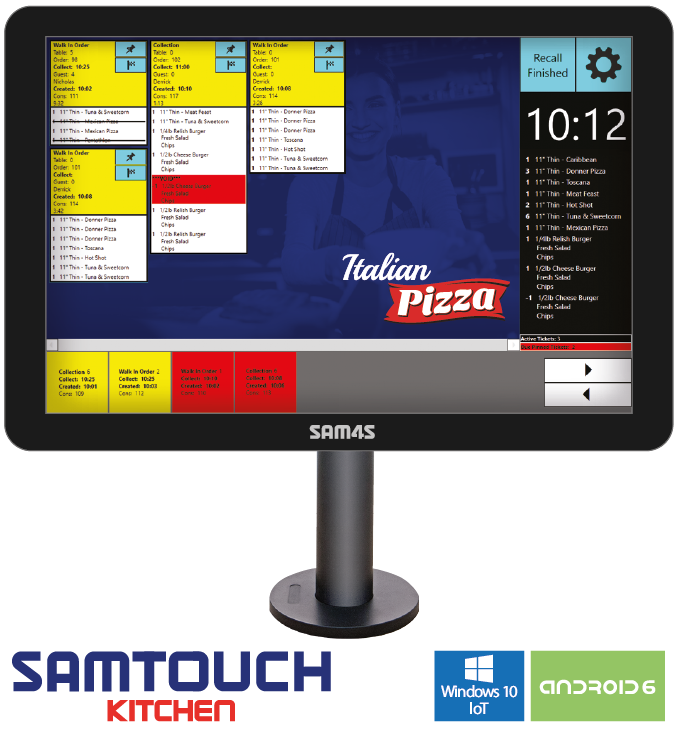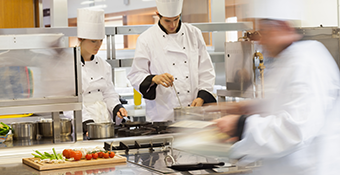 Order Status
Keep track of orders that don't need preparing at the moment. 'Pinned' orders are held at the bottom of the screen and are removed from the summary until they are 'un-pinned'.
Minimise paper wastage and reduce stress levels in the kitchen with Samtouch Kitchen.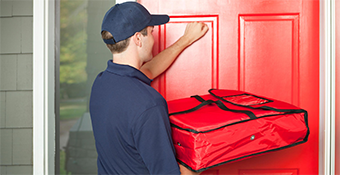 Fast Food & Take-Away
The Samtouch Kitchen system is ideal for take-aways, enter a collection / delivery time at the point of sale terminal and then 'pin' the order.
The order will remain 'pinned' until a pre-defined time before collection / delivery at which point the chef will be alerted that the order needs preparing.
Consolidated List

A comprehensive list of all the orders recieved but yet to be prepared.
Pinned Orders

See the status of current orders being prepared whilst 'pinned'.
Just In Case

Alert times can be pre-set in the system to advise chef that an order has not gone.
Un-Pinned Orders

'Unpin' orders once the order is prepared and ready for collection or delivery.

Retail & Hospitality Brochures 2021
Grow Your Business With Samtouch POS Solutions
Both our Retail & Hospitality brochures are now available to preview, print and share for the first time. The most comprehensive and thorough overview of Samtouch Software to date.
Editions Including:-
Retail Brochure 2020 V1: Click Here
Just some of Samtouch's trusted business partners